Mobile App
Whether you need a delivery sent to family, friends, or customers, with Zaslat.cz, you are a little closer to all of them. Download our mobile app for iOS or Android and keep all of Zaslat.cz's services at your fingertips.
Parcel delivery in your pocket
We make delivery of your parcel effortless, wherever you go, directly from your mobile device. We will always keep you informed about your shipment's progress with push notifications. You will not miss any vital information.
Forget expensive postage. We will deliver your package, even to the other side of the world, at a great price. Thanks to cooperation with various carriers (GLS, DPD, GEIS, PPL, UPS, TOPTRANS, etc.) you can choose among the lowest rates. Just enter location, dimensions, and weight.
What our apps do
order shipments according to the specified parameters with the possibility of cash on delivery and additional insurance
pay using the GoPay payment gateway
use address books and set default sender/recipient addresses
track your own or any other shipment with a naming option
keep you informed about the progress of the transport using push notifications
What will come next?
track any shipments through different carriers that were not ordered through Zaslat.cz
track parcels simply by scanning a shipping label
new shipping services and shipping to customs (non-EEA) areas
Want to see more?
Check out this short video. The editorial staff at www.mobilenet.cz chose us as the application of the week and wrote a detailed review about us.
Download application
Our mobile app is currently available on iOS (iPhone and iPad) and Android.
We are not considering developing a Windows Phone application at this time.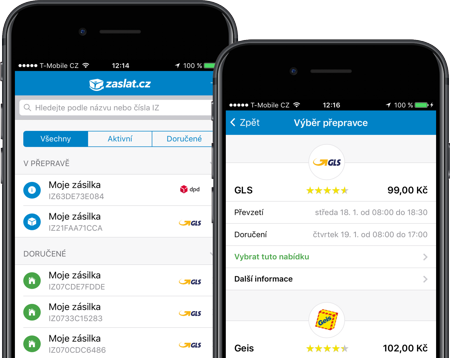 Open video