How to Send a Parcel Online with Zaslat.cz
Zaslat.cz is a revolutionary shipping service that makes sending your parcels effortless. Forget about the queues at the Post Office – just fill in your information and prepare the package. We'll take care of the rest!. We'll pick up your parcel and deliver it right where it belongs.
Everybody needs something delivered at some point. Whether it be to family, friends or simply just to have their products delivered. We will deliver your package, even if it's to the other side of the world, providing excellent service at a low price..
Thanks to close cooperation with leading carriers, we can offer a a complete range of transportation services, whether you are shipping a one-off order or regularly shipping a larger number of packages.
Ordering our parcel delivery is a matter of just a few minutes. You can request shipping of your package directly through our website or using our mobile app.
Measure the size and weight of your package
Make sure that the dimensions and weight are as accurate as possible. In case of uncertainty, it is preferred to be generous to prevent any unexpected surcharges. Don't worry, Zaslat.cz has offers for oversized shipments as well.
All data, along with the address for where to pick up and deliver to should be inserted into the form on www.zaslat.cz. Enter all packages at once if needed, and then click Continue.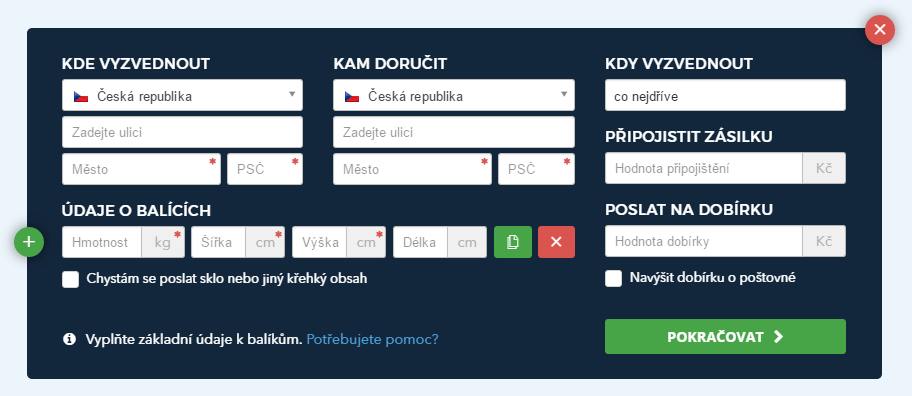 Select the services and preferred carrier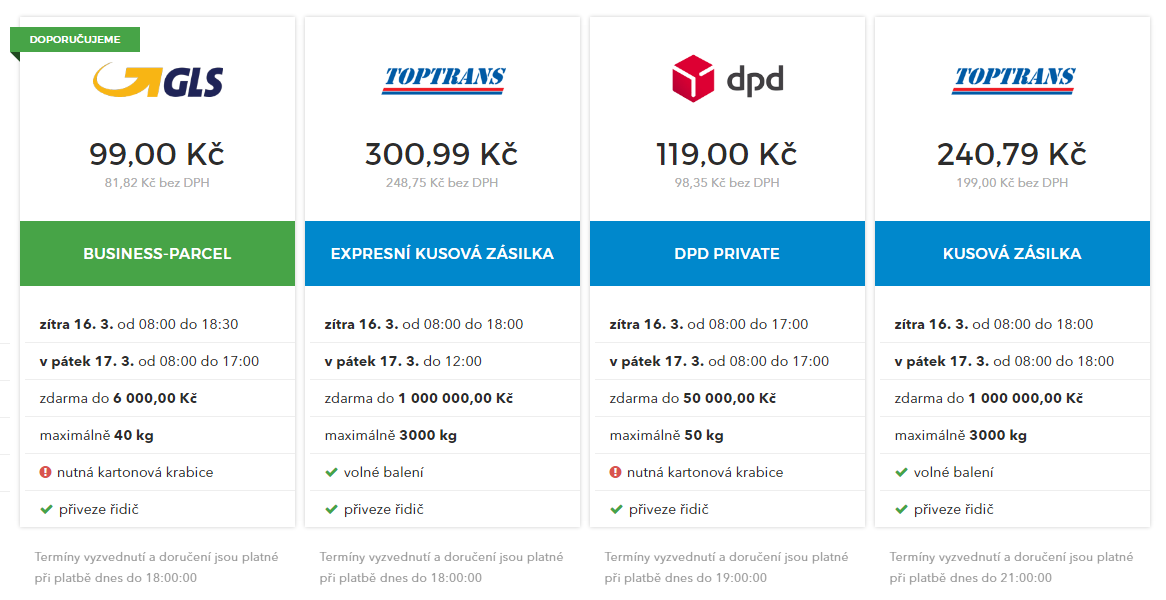 Zaslat.cz provides you with comprehensive offers, including various service combinations. We are constantly adding additional services, to ensure you always receive the best deals available and a service that suits you best.
The choice is yours, and you will always find Zaslat.cz transportation services tailored precisely to your specific needs.
Fill in details and pay with an online payment gateway
Filling in details can be tedious, but it's important you do so carefully and accurately. Zaslat.cz allows registered users to store personal addresses, so there's no need to fill in address details more than once.
You can add multiple shipments to your order and set billing information if necessary. Finally, all that remains is to finish the order and pay.
Zaslat.cz offers secure payments using the Comgate payment gateway.

Pack the shipment or print the label if needed
Prepare your parcel following our packing instructions to avoid any inconvenience. We know your shipments are valuable to you, and we want to ensure they get where they're going as smoothly as possible.
Most of Zaslat.cz services do not require you to print a shipping label. If you have chosen a service that requires a custom label, print one and attach it to your shipment. Don't worry if you don't have a printer, just choose the service labelled "No Label Printing Required" and the courier will bring one.
Wait for the courier to come
After you have booked a courier and prepared a shipment, you have to wait for the courier's arrival. For most carriers, it is not possible to schedule a specific pickup time. Couriers pick up in most cases at any time during the day between 8:00 and 18:00, Monday to Friday, depending on area and capacity.
If the driver does not pick up the shipment by 16:30, we recommend you contact us. If you cannot be at home all day, try asking a neighbour to stand in for you, for example.
Track the shipment at any time
Each shipment ordered via Zaslat.cz has a unique code in the form of IZxxxxxxxxxx. This code comes with your order confirmation, or you can find it by logging in to your account. With this code, you can track your shipment from your door to the recipient. The Zaslat.cz sophisticated automated monitoring system alerts us if there is a problem on the way so that we can quickly and efficiently address it.
Tip:
The IZxxxxxxxxxx will also be received by the recipient. Always use this code when speaking to Zaslat.cz.
Delivery by courier
Great, the courier arrived at the place of delivery. However, if the recipient was not present at the delivery address for any reason, the courier will make another delivery attempt the following working days. Most services offer up to two delivery attempts, the third is available on request. There are exceptions in some countries, such as the United Kingdom, where packages are stored at the depot after the first attempt. If the recipient was not present at the address, please check the current status of your shipment and, if necessary, contact our customer care to arrange another delivery attempt.